Temple Freda in Bryan, Texas (1913) to Be Restored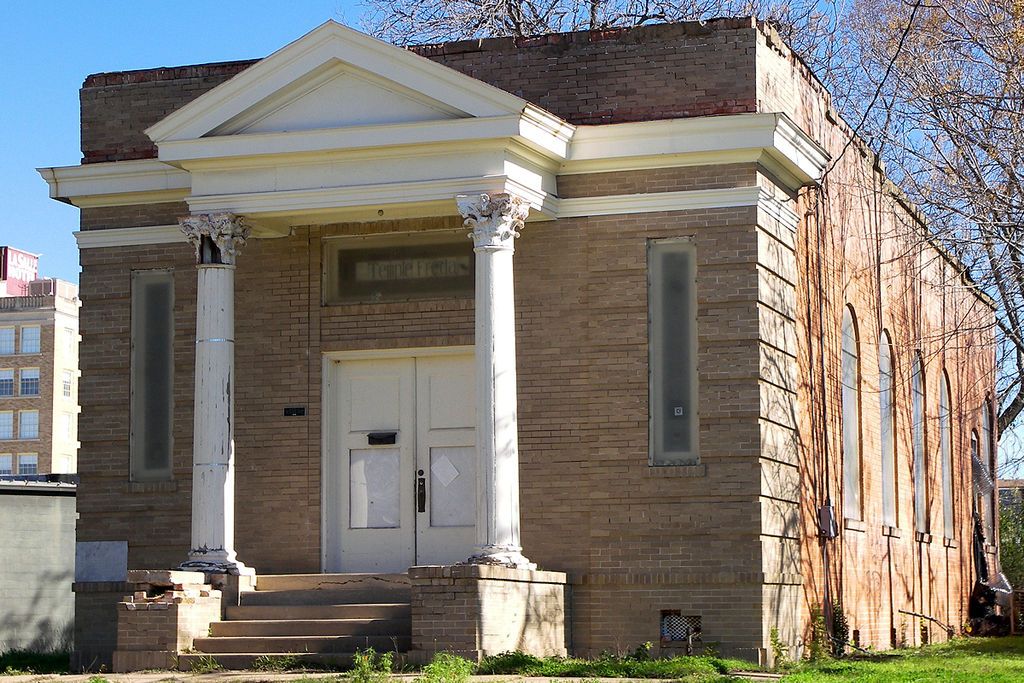 When the cornerstone of Temple Freda in Bryan, Texas was laid in 1913, the local newspaper wrote:
"the synagogue is a neat little brick structure, modern in design, and when completed will be a monument to the pluck, energy and enterprise of those Jewish citizens who now reside in Bryan, and who are responsible and have the credit for its erection." (The Eagle, Feb 17, 1913).
The once "neat" but now deteriorated building has not been used for Jewish worship for more than half century, but now it getting a second lease on life.
In 2020, the restoration of Temple Freda in Bryan, Texas and its re-purposing as a public community space continues to move forward as part of multi-year effort by local preservationists and the City of Bryan. In 2017 the nascent restoration project received a $40,000 matching grant from the Texas Historical Commission, which enabled a start to the project. With additional support from a city Downtown improvement grant, the building was stabilized. Faculty and students from the Center for Heritage Conservation at the College of Architecture of nearby Texas A &M documented the preservation needs of the structure and prepared a full preservation plan and detailed digital model illustrating the building's deterioration in 2018. The building has previously been documented by Texas A&M architecture students who helped list the structure on the National Register of Historic Places in 1983 and the Texas A & M team also created measured drawings for the Historic American Building Survey (HABS).
The city of Bryan now owns and cares for the Temple Freda property, but the plan is for an existing or new nonprofit organization to take on ownership and oversee the temple's long-term management.
The small but nimble Brazos Heritage Society, a volunteer organization education and advocacy organization, has partnered with the city to raise awareness and help raise funds, and efforts are underway to fund Phase II. A & M Hillel and other local Jewish groups have also pledged to support the project.
Read the entire story here:
https://samgrubersjewishartmonuments.blogspot.com/2020/09/getting-ready-for-its-close-up-former.html