The COVID-19 crisis is terribly hard on many of our members and readers. For others, it is fortunately (so far) only the inconvenience of sheltering in place, the cancellation of events, and learning to teach on-line. In these hard times, think back a bit to better times. Let us know what you've bene up to. Allow us to list your recent accomplishments: discoveries, publications, exhibitions, preservation projects, collaborations, etc. In 2020, everyone is a member of ISJM, and we are glad to share your news.
News About Our Members and Friends
In awards announced January 1, 2021, photographer and friend to ISJM Christian Herrmann, has been honored by Germany for his photographic work, blog, and other activities documenting Jewish heritage sites in Eastern Europe. Christian, who maintains the blog Vanished World, received the Federal Cross of Merit am Bande, described as "the highest recognition that the Federal Republic of Germany expresses for services to the common good." you can follow Christian's work on Facebook and also download for free his beautiful calendar.
A new project by of cultural anthropologist Alanna Cooper, the Abba Hillel Silver chair in Jewish studies at Case Western Reserve University in Cleveland, to document the move of Cleveland synagogues to the suburbs and to understand and interpret community decisions about what to take and what to leave behind was featured in the Cleveland Jewish News. Prof. Cooer was named one of four 2020-21 faculty fellows at Case Western Reserve University's Freedman Center for Digital Scholarship. Her grant is for a project entitled "Digital Stores of Cleveland Synagogue Dispersion: Moving Pieces of Congregational Life." The program is funded by the Freedman Fellows Endowment, established by Samuel B. and Marian K. Freedman.
Archaeologist Jon Seligman has published an article on the inscription he and his team excavated during the excavation of the Great Synagogue of Vilna last summer. Click the link to read and download "Between Yerushalayim DeLita and Jerusalem—The Memorial Inscription from the Bimah of the Great Synagogue of Vilna."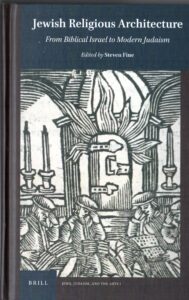 Prof. Steven Fine of Yeshiva University has been – as always – very busy. In between writing books and curating exhibits on the Menorah, the Arch of Titus, ancient polychromy, and more, he has brought to publication with Brill Jewish Religious Architecture From Biblical Israel to Modern Judaism an important volume of essays and articles. Originally intended as part of a 5-volume encyclopedia of the architecture of different religions, the volume now stands alone, and successfully brings together work of established and younger scholars including perspectives outside of the strict parameters of architectural history. Many ISJM members and friends have contributed. Congratulations to them all! You can find the Table of Contents and introduction here, and several authors have also posted their contributions online. The book may be too expensive for many individuals to buy, but be sure your university or institute library orders a copy.
In honor of the 160th anniversary of the birth of Hungarian-Jewish architect Lipot Baumhorn, Ruth Ellen Gruber, author of many books on Jewish heritage in Europe and the editor of the essential website Jewish-Heirtge-Europe.eu has posted a chapter about "Looking for Baumhorn" from Upon the Doorposts of Thy House (1994), her very first book on Jewish subjects. Eszter Nagy-Tóth and Gábriel Szekély have also written an essay on JHE about visiting the Fabric synagogue, a Lipót Baumhorn gem in Timisoara, Romania, with links to more detailed descriptions and analysis of the building's architecture and present-day condition. the building was extensively photographed by Boris Khaimovich for the Center for Jewish Art in 1997. Ruth his in isolation in her house in Umbria, Italy, but she is busy leading the thousands of followers of JHE to many fascinating, beautiful, informative – and yes – distracting, virtual tours of European Jewish heritage sites. If you are not a follower of JHE, you should be, and the site offers years of important articles and essay to catch up on.
The new newest issue of Pennsylvania History: A Journal of Mid-Atlantic Studies focuses on Harrisburg, Digital Public History, and the 'City Beautiful,' and contains three articles relevant to the study of Jewish space, architecture and architects. Bruce S. Bazelon writes in "the Trek Uptown: The Migration of Harrisburg's Jewish Community in the Early Twentieth Century," (pp. 179-191) about demographic, geographic and architectural change in Harrisburg's Jewish community. In "Faith in Beauty and Progress" (pp. 97-107) ISJM member Matthew Frederick Singer writes about the architecture of Harrisburg's classically inspired Temple Ohev Sholom and Beth El Temple. In "The Brunner Plan for the Harrisburg Capitol Complex," ISJM president Samuel D. Gruber writes about a lesser known aspect of the architecture and planning work of the American Jewish architect Arnold Brunner, today mostly remembered for his synagogue architecture, but who was in the early 20th century one of the founders of American city planning.
ISJM President Samuel D. Gruber has a new article about synagogues in Providence, Rhode Island. Click here to download "Four Synagogues and A Hillel House: Notes from a Quick Trip to Rhode Island" from the Rhode Island Jewish Historical Association Notes, 2019.
A video of historian David Kaufman (Executive Director of "NEW YORK JEW: Center for New York Jewish History, Culture, and Community") lecturing at the Limmud NY 2018 in Princeton, NJ on the reasons Jews settled and thrived in New York City is now form the Jewish Broadcasting Service. Kaufman is author of Shul with a Pool, Jewhooing the Sixties, and many important articles about American Jewish communities and synagogue architecture.
Jerry Klinger and the American Society for Historic Preservation celebrated the installation of a new marker commemorating the Jewish philanthropist and civil rights advocate on September 20, 2019, in Tuskegee, Alabama. The new marker is part of the city's Civil Rights and Historic Trail. Klinger has been organizing and funding the creation and installation of historic markers across America and elsewhere since 2002, and these often celebrate Jewish and African American history. You can read more about Rosenwald and the new marker here.