January 23: On this day in 1922 Artist Leon Golub was born in Chicago, Il, USA
Leon Golub was an American painter, born in Chicago, who was best known for his socially and politically figurative art.
He graduated from the University of Chicago in 1942, and his BFA and MFA at the Art Institute of Chicago in 1949 and 1950, where he met his wife of fifty years, noted artist Nancy Spero. In Chicago, Golub developed style of expressive figuration to address contemporary and driving political and social topics, including police violence and war. From 1959 through 1964, Golub and Spero lived in Europe where he was influenced by classical narrative art and European monumental historical painting.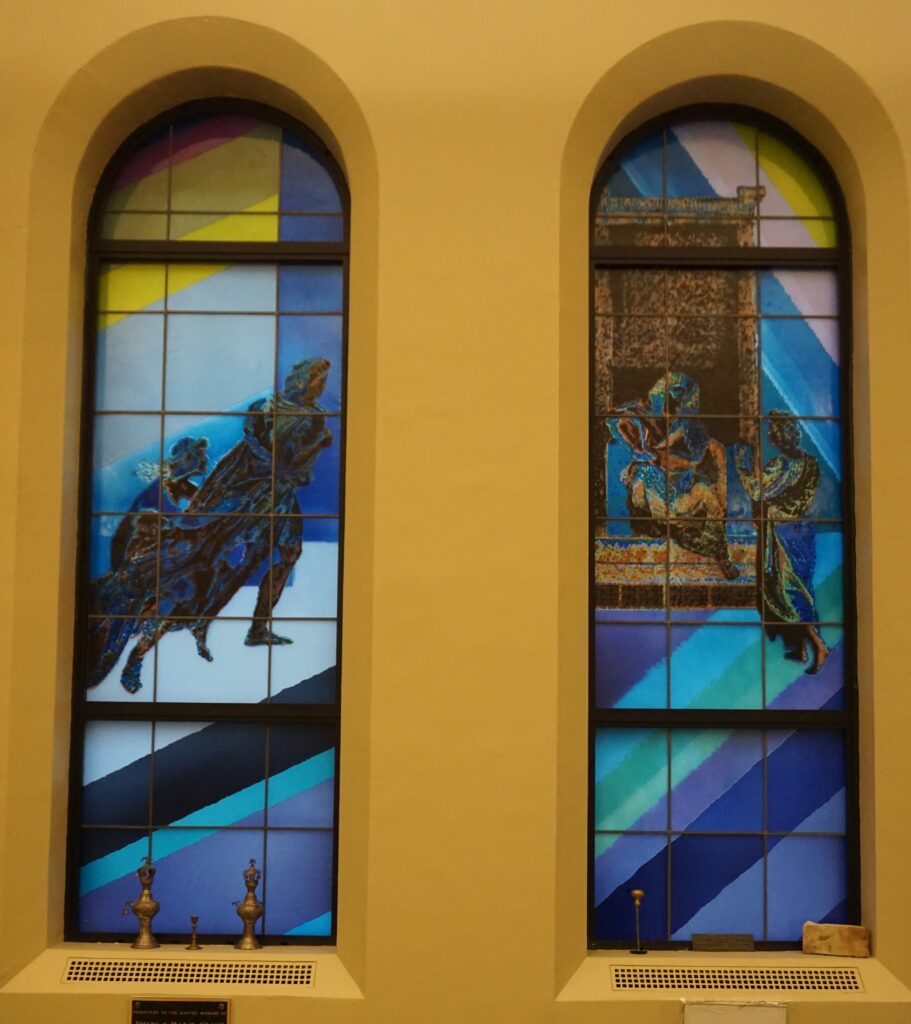 Golub's Judaism was expressed in his social action, and he did not create many overtly Jewish or Biblical works. In 1996, however, he was asked to design a set of stained glass windows for Chicago's Temple Sholom, which over the years has sponsored stained glass series from several notable contemporary artists. He created four linked windows depicting the life of Joseph in the space formerly used as the senior rabbi study. The windows were made in New York by Victor Rothman Stained Glass. The acid etching was done by Gene Mallard.
In the 1960s Golub's directly addressed the American was in Vietnam with two controversial but highly acclaimed series: Napalm and Vietnam. He and Spero became were leaders in formulating an artistic response to the war and other contemporary social issues. Later, in the 1970s Golub's work was more benign, and he painted scores of portraits of public figures, many of which were included in the posthumous exhibition Leon Golub: Political Portraits (2016) at the National Portrait Gallery, London. During the Reagan years he turned to more overtly political work, and themes of violence, oppression, and exclusion. In his later years his work deals with more personal themes of loss and death.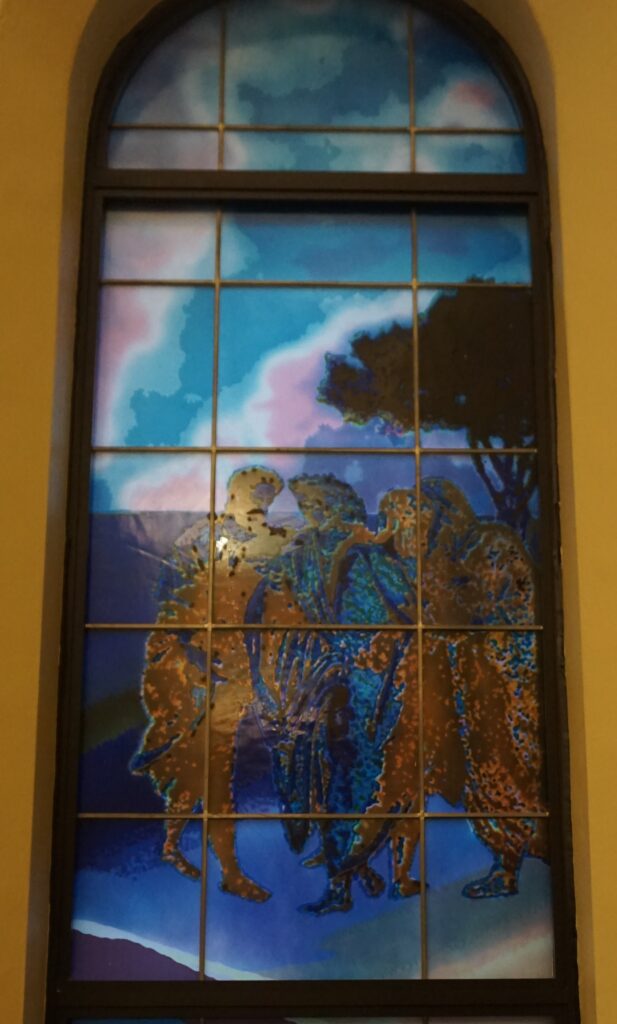 January 8: On this day in 1877 Anglo-Jewish architect Ernest Martin Joseph, OBE, was born.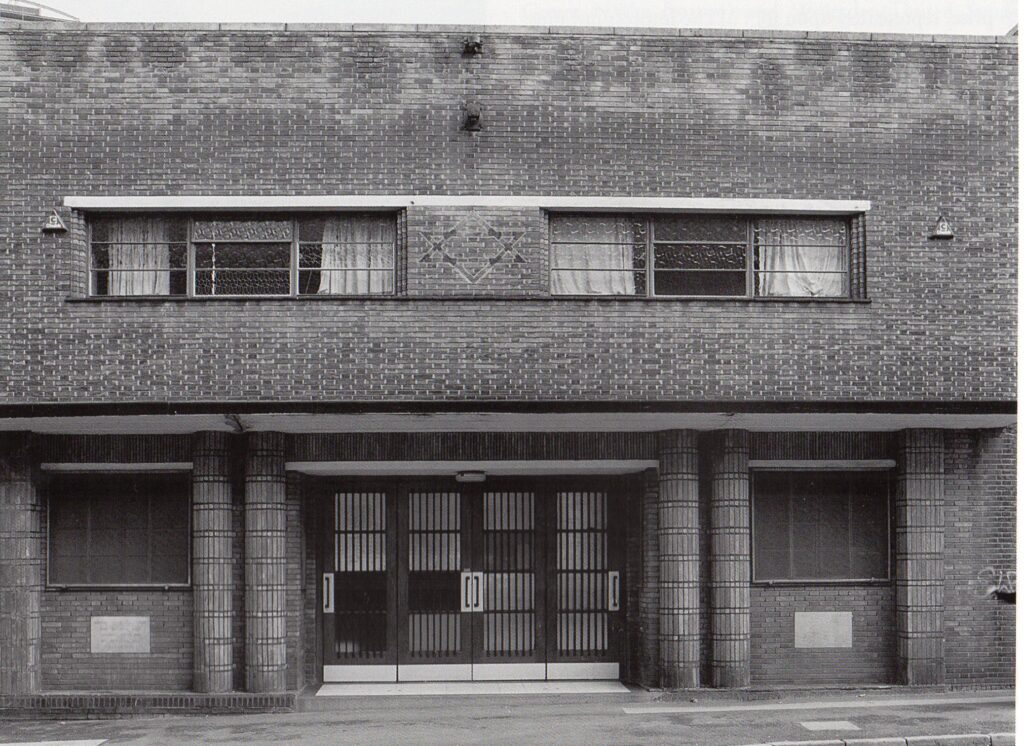 Joseph was a designer of synagogues in the United Kingdom and son of the prolific synagogue architect Nathan S. Joseph (1834–1909), which whom he began his architectural career. The younger Joseph was architect for the United Synagogue and Honorary Architect to the Union of Liberal and Progressive Synagogues. He designed the Art Deco synagogue at Sheepcote Street, Birmingham (demolished 2006), and the classically styled synagogue in St. John's Wood Road, London (which he rebuilt after its destruction in World War II. Joseph was partner in the firm of Messrs Joseph, and today best known as designer of Shell Mex House between the Strand and the Thames Embankment in London.
Read more about the Joseph family of architects in Sharman Kadish, The Synagogues of Britain and Ireland: An Architectural and Social History (New Haven and London: Yale University Press, 2011), and on Ernst Joseph especially pp. 199-200, 216.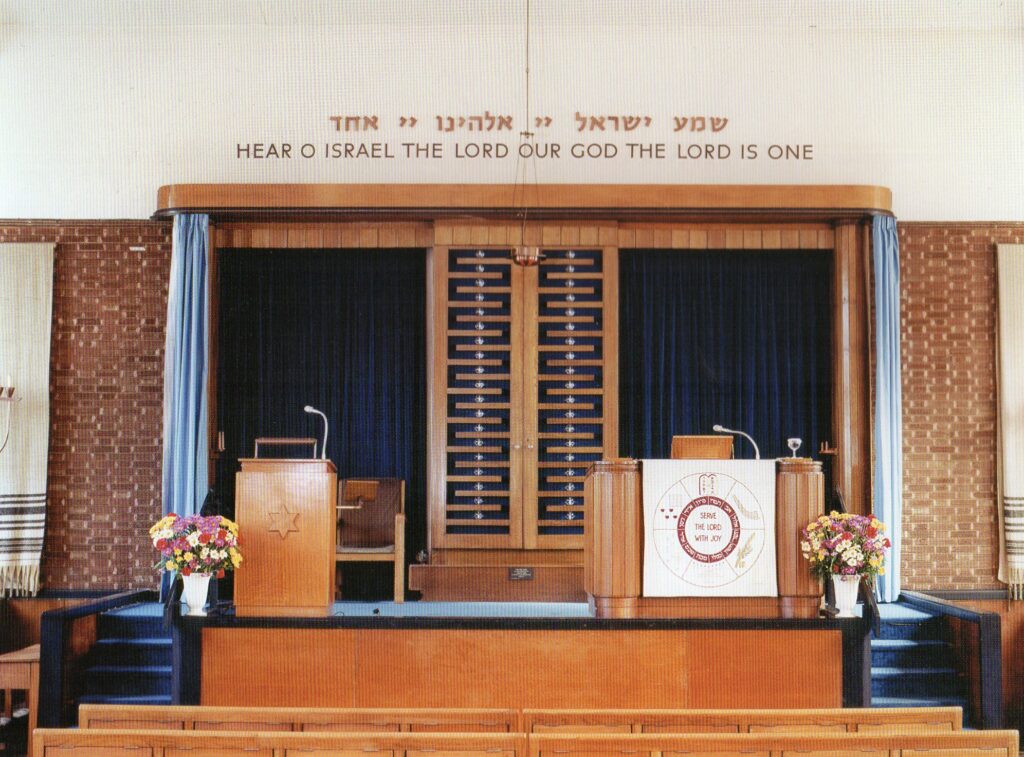 In the First World War he worked to provide buildings for what later became the NAAFI and was promoted Major and appointed Member of the Order of the British Empire. In the years before the Second World War he worked to provide for the influx of Jewish refugees from Germany. He returned to NAAFI work in the Second World War and was appointed Officer of the Order of the British Empire in 1947.
January 6: Painter and printmaker Ruth Gikow (1915-1982) born in Ukraine; emigrated to the United States in 1920
Ruth Gikow (1915-1982).Ukrainian-born Jewish artist Ruth Gikow was born on this day. She came to this country as a poor immigrant but through commercial work, WPA mural work, and her abundant talent, achieved success and some fame before her her early death. Painting against the current of abstraction, she pulled from the social realism popular among Depression-era New York artists, and European Expressionism. Gikow managed as a woman figurative and representational painter to land her work in many major museum collections. Her paintings and prints of people on the street (in which she was much in sync with her friend Raphael Soyer), and especially isolated and groups of figures carry an emotional weight, and resonate today. Her subjects' faces are so much more than emojis.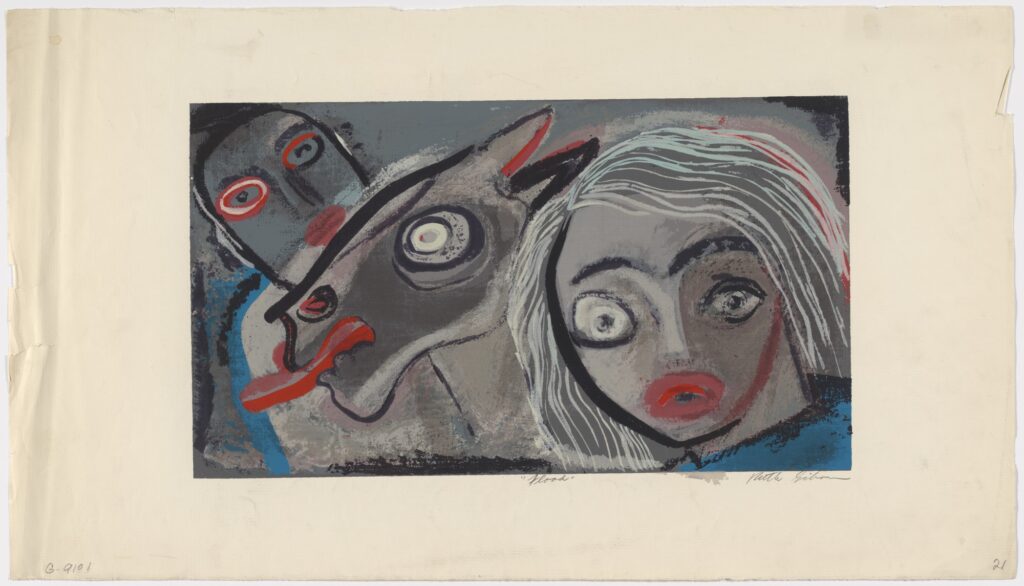 Gikow managed emotion without being overly sentimental or sensationalist.In an era when non-narrative abstraction and slick Pop painting ruled, she used art to delve into the psyche, to view relationships, and to acknowledge the very HUMAN alienation of 1950s-60s America. Perhaps her history an an immigrant, and her stint as a commercial artist, allowed her to view through the hollow optimism of post-War America. In the 1960s she co-founded the American Serigraph Society as a way to make original art affordable and accessible to ordinary Americans. Though her artwork is not overtly political, like her husband painter Jack Levine, Gikow was committed to a better more just and equal world.
January 1: Artist, poet, and Holocaust victim Petr Kien born in Varnsdorf (Czechoslovakia), in 1919.
Works by Petr Kien fomr Terezin: Two self-portraits, Portrait of a Boy in a Brown Jacket, In the Terezin Ramparts, and Portrait of Bedrich Fritta.
Kien was a gifted young artist and poet who was imprisoned at Terezin and then deported to his death at Auschwitz. In 1936 he enrolled at the Academy of Fine Arts in Prague and in the graphic design school Officina Pragensis under Prof. Hugo Steiner-Prag. In Decemeber 1941 he was deported to Terezin where he worked in the technical department under Bedrich Fritta. In October 1944 he was transported with his family to Auschwitz where he died soon afterward. In his short life Kien produced a large body of work, much of which survived his death.
December 9: Artist Mark Gertler born in 1891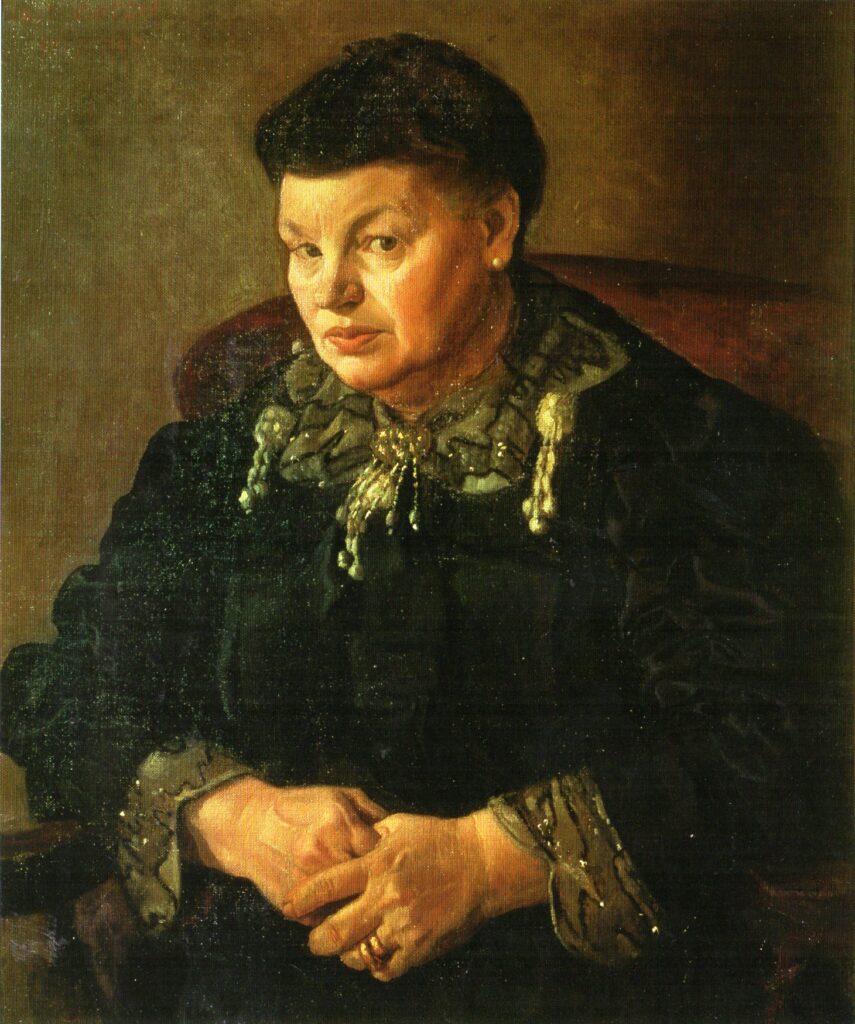 Anglo-Jewish artist artist Mark Gertler (1891-1939) was born in Spitalfields, London, the child of Polish Jewish immigrants. From great poverty he attended beginning in 1908 the Slade School of Art in London. From then on through the 1930s he and his art were recognized in leading modern art circles in Britain. He had a tumultuous personal life – much of it centered on his deep love and obsession with the artist Dora Carrington. Gertler committed suicide in 1939 but left an important artistic legacy, especially in portraiture. Read more here: /wiki/Mark_Gertler_(artist)
November 2: Birth of Mark Matveyevich Antokolsky (1840-1902)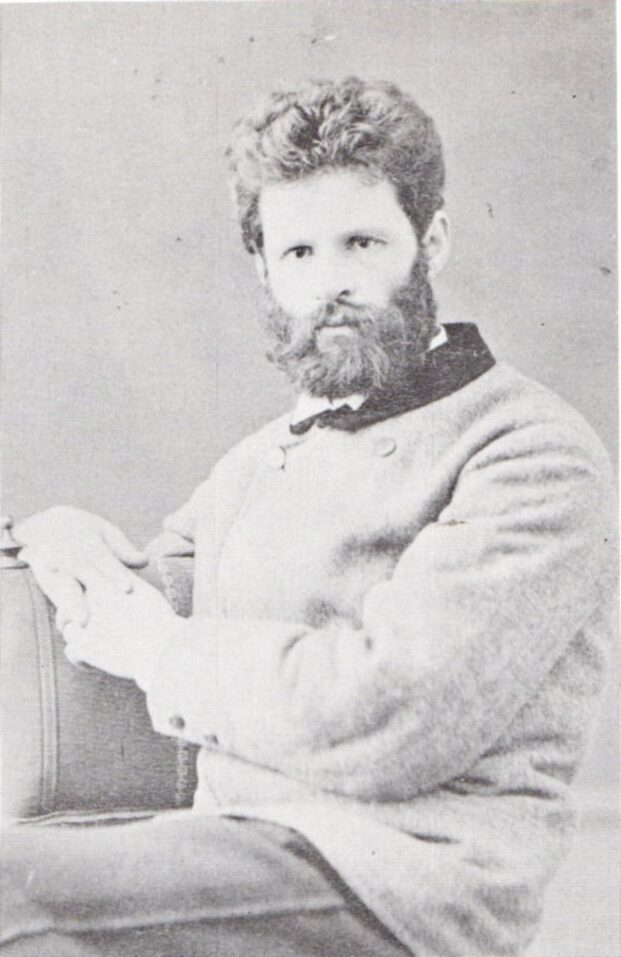 Today is the birthday of noted 19th-century Vilna-born Jewish sculptor Mark Matveyevich Antokolsky (1840-1902), who led the way for Jewish artists to engage in sculpture in the 20th century. We suppose this is more or less, given the differences in western and eastern calendars. See this birthday celebration from Sam Gruber from 2015: https://samgrubersjewishartmonuments.blogspot.com/…/hap…
September 4: Birth of Thomas Ustick Walter (1804)
On this day in 1804 American architect Thomas U. Walter was born. He would gain fame as the designer of the dome of the Capitol building in Washington, DC, but among the many buildings he designed in his career was also the small Beth Israel Synagogue in Philadelphia, known as the Crown Street Synagogue. Walter was a student of William Strickland who had designed Philadelphia's Mikveh Israel in 1824-25 in a mix of Classical and Egyptian Revival styles. In 1849, Walter used a heavy Egyptian style for the facade of Beth Israel. According to Samuel Gruber "By this time the style was well known, but still it is remarkable that it was chosen by Walter (or his clients) considering the architect was already well known for his classically designed Girard College, and he would go on to achieve fame as the designer of the dome of the Capitol in Washington. (Walter had used the style for a design for the gate for Laurel Hill Cemetery submitted in 1836).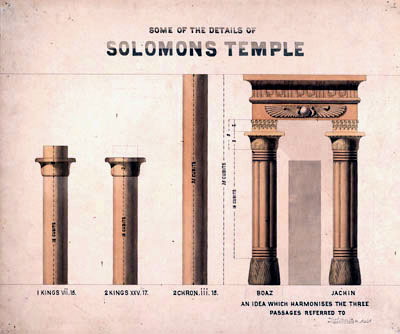 Walter was a devout Christian and taught Sunday School for much of his life. In this role he created reconstructions of many of the building mentioned in the Bible, including Solomon's Temple. In his details for the Temple he employs Egyptian elements, and these are very similar to those he employed at the Crown street Synagogue. These drawings are preserved at the Athenaeum in Philadelphia and are all collected online.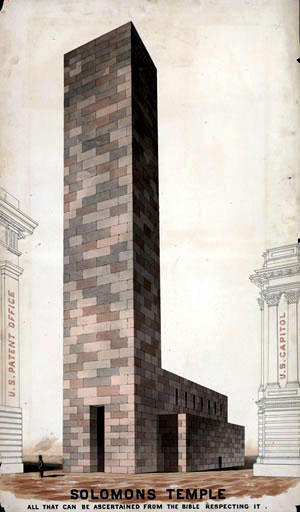 Walter was also the architect of the earlier Spruce Street Baptist Church (1829) at 418 Spruce Street in Philadelphia, which is now the home of the Society Hill Synagogue.
July 8: Birth of Abraham Rattner (1893)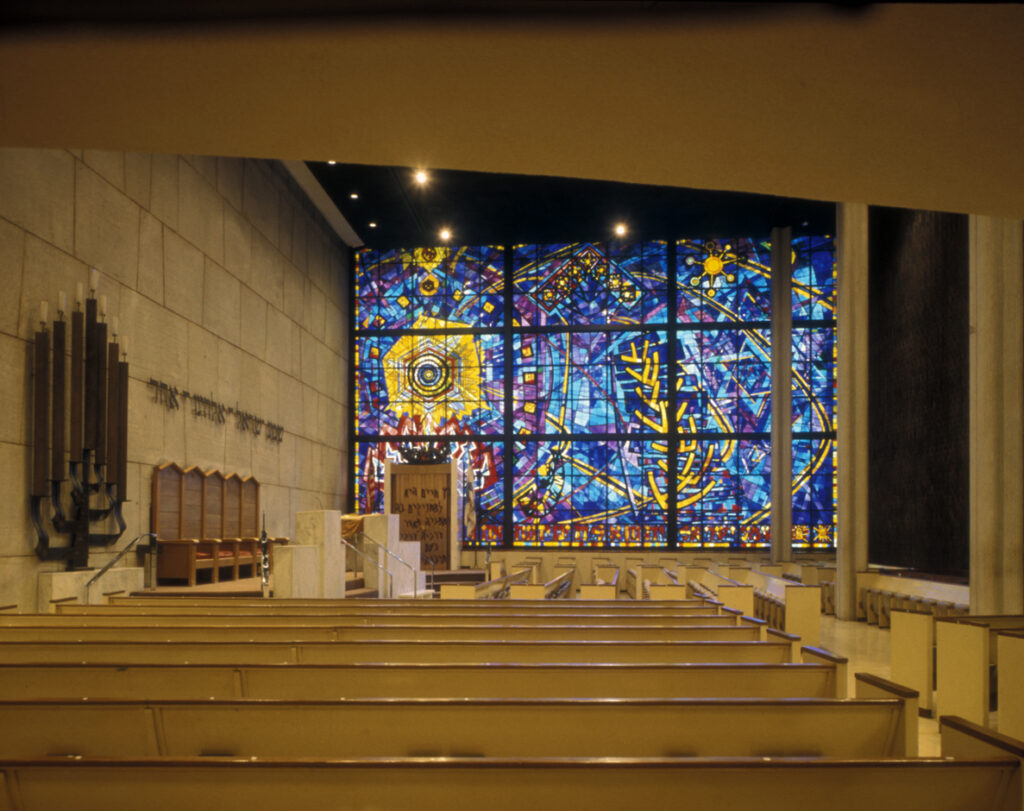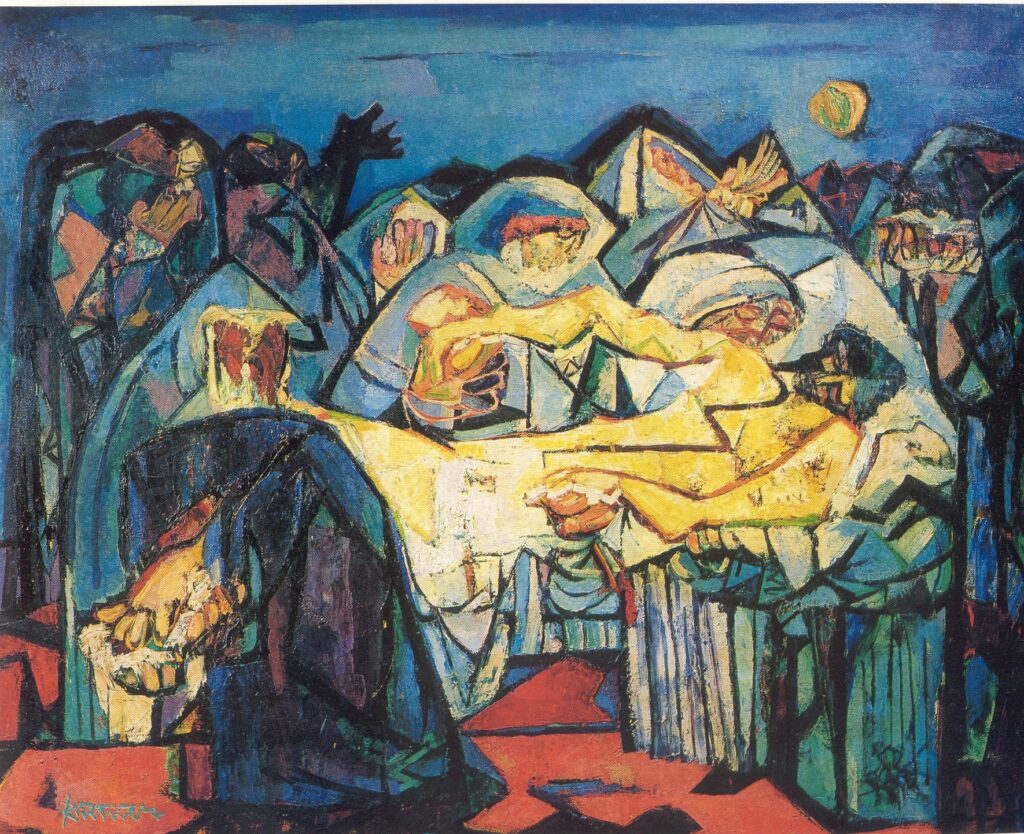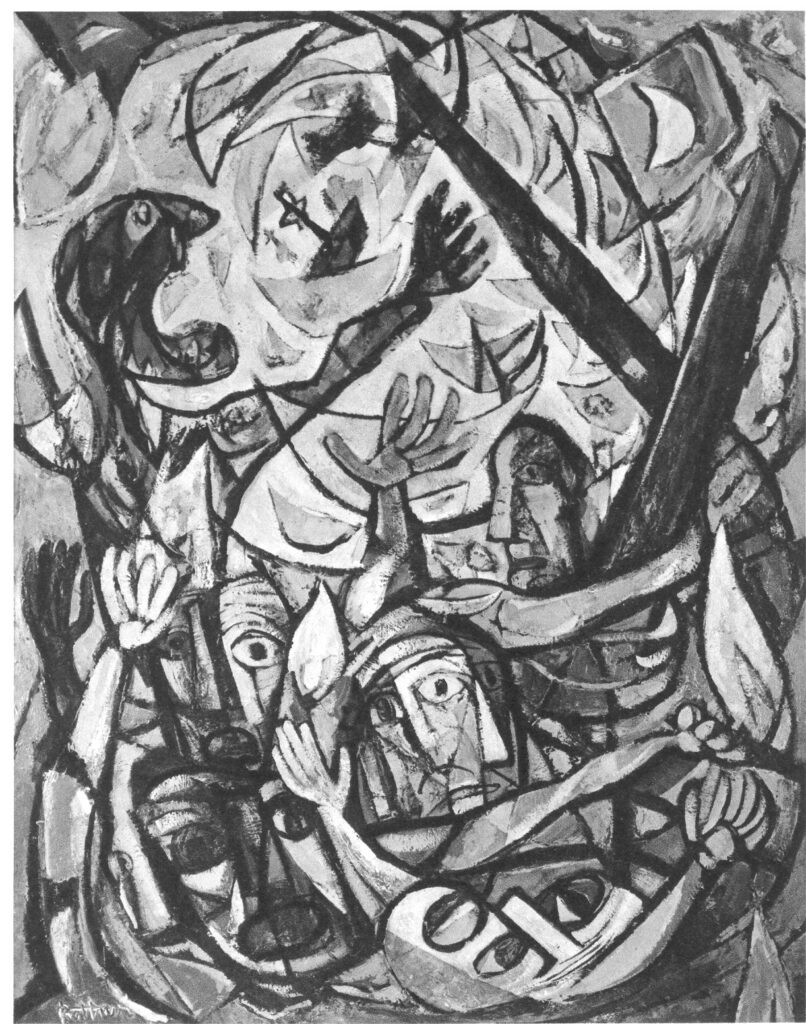 On this day in 1893 famed painter and stained glass artist Abraham Rattner (July 8, 1893 – February 14, 1978) Poughkeepsie, New York, to a Russian-Jewish father and a Romanian-Jewish mother. Rattner studied at the studied at George Washington University, the Corcoran School of Art and the Pennsylvania Academy of Fine Arts. After serving in World War I as camouflage artist, Rattner lived in Paris from 1920 to 1940, and his work reflects his association with artist of that period, especial Picasso and George Rouault. In the post-World War II period he was known for his highly expressive and emotional work that used Christian imagery to evoke the suffering of the Holocaust. He also designed the great stained glass window in the Chicago Loop Synagogue.
June 19:
On this day in 1893 Jewish-American architect David Supowitz (1893-1964) was born in Philadelphia. Supowitz went on to become a prolific designer of theaters and other buildings in the Philadelphia and South New Jersey areas. He is know to have designed at least one synagogue – the former Congregation Beth Israel on East Roosevelt Avenue and D Street, now the home of New Life Church (photo).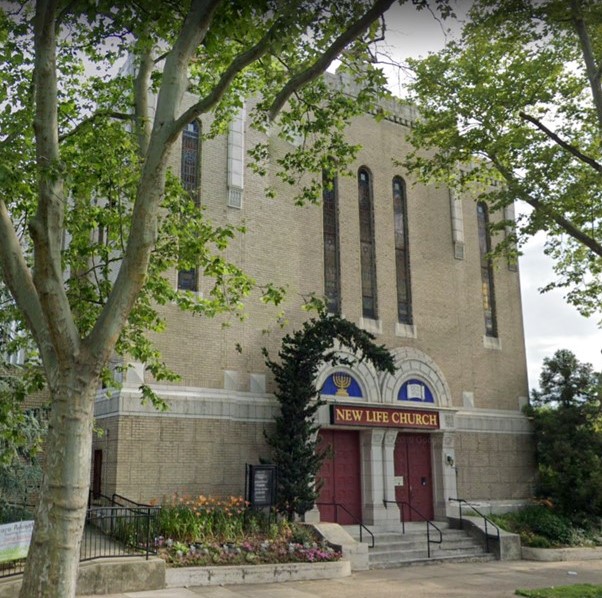 He attended Southern High School and in 1915 and then attended the University of Pennsylvania where he received his B.S. in Architecture in 1915 and M.S. in 1916. Supowitz was one a many active Jewish architects in Philadelphia in the first half of the 20th century most of whom had attended the University of Pennsylvania. They created a mostly supportive network, and over the years often partnered on projects and mentored younger architects.
As an undergraduate he was the recipient of the Arthur Spayd Brooke Award. Although summers as an undergraduate had been spent in the employ of John T. Windrim, in October, 1916 he began working for Magaziner & Potter and stayed with them through the winter, returning to Windrim's office in April, 1917 for five more months.
By October, 1917 he had relocated to Washington, DC, where he was employed by the U.S. Naval Construction Division. He returned to Philadelphia in 1919 and work with Stanley Neubauer in the office which would eventually be titled Neubauer & Supowitz. This firm continued until 1926, and Supowitz then remained in individual practice through 1963. Although he had begun sharing an office as early as 1945 with architects Israel Demchick and Shander Berger, it was not until 1963 that the firm of Supowitz & Demchick was formally established.
For a fuller list of projects see:
https://www.philadelphiabuildings.org/pab/app/ar_display_projects.cfm/23985
******
April 24:
Death in 1983 of German-Jewish photographer Avraham Pisarek (24 December 1901 in Przedbórz, Congress Poland – 24 April 1983 in West Berlin). In 1928 he settled in Berlin-Reinickendorf. There he completed a photographic education and worked as a photographer for image publishers and the Berlin theater community. His photos were published in Arbeiter-Illustrierte-Zeitung and in the Jewish press. In 1929, he joined the Reich Association of German Press. Pisarek's contacts with the KPD resulted in a collaboration with John Heartfield. He became a member of the Photography Group Berlin-Nord. As a friend of Max Lieberman, he frequented circles of artists and writers of the Weimar Republic.
Pisarek was officially banned from working in the mainstream press after the Nazis took power in 1933. He was allowed to work only for the Jewish community. In 1936, he, his non-Jewish wife Gerda and their two children were expelled from their Reinickendorf apartment. He worked as a photographer until 1941 for Jewish newspapers as well as for the Jewish Cultural Association of Berlin. During this time, among other things, he took the only photos of Liebermann's funeral. In addition, he participated in (illegal) anti-fascist work, which led to repeated arrests and summonses to the Gestapo. After the final dissolution of all Jewish organizations in Germany in 1941, Pisarek wa drafted for forced labor and used as an interpreter for Polish and Soviet forced laborers. He survived the Nazi rule thanks to the Rosenstraße protest.
*****
April 6:
Death in 1854 of American William Strickland, one of America's leading architects, who designed the second synagogue building for congregation Mikveh Israel in Philadelphia in the Egyptian Revival style.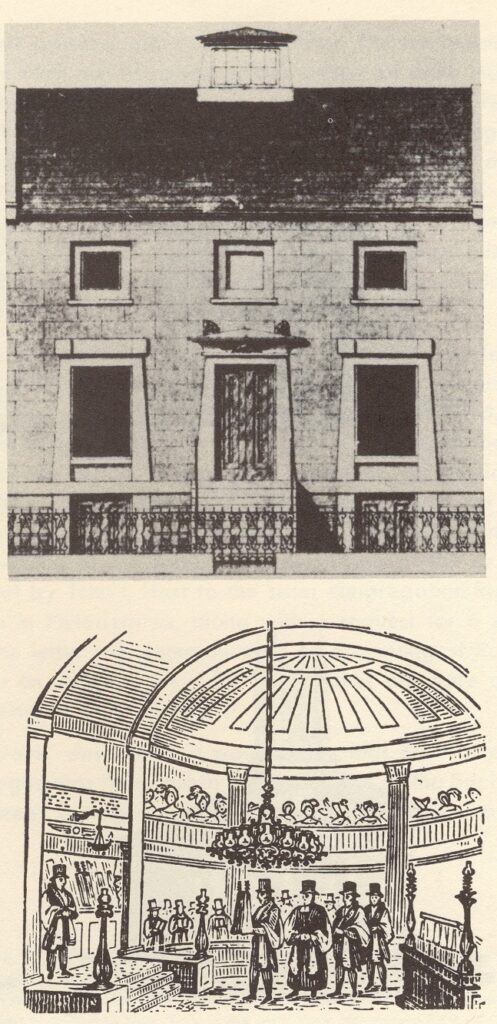 Read more here https://samgrubersjewishartmonuments.blogspot.com/2013/03/for-passover-looking-back-to-egypt-for.html
*****
April 4: Birthday of muralist Bernard Zakheim (1898-1985)
Today is the birthday of artist Bernard Zakheim, a leading muralist in San Francisco during the 1930s.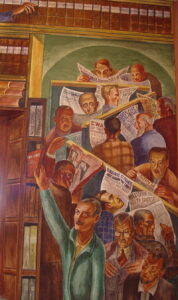 He was born to a Hasidic Jewish family in Poland and at the age of 13 he expressed his desire to become an artist and to work with his hands, rather than to continue religious training. His mother objected and as a compromise Zakheim was sent to a technical training school to become a furniture designer and upholsterer. However, he did not actually give up on his artistic goal; he studied watercolor art privately and then was awarded a scholarship to the Polish National Academy of Fine Art, where he studied drawing, painting, and sculpture.
After fighting in World War I, Zakheim and his wife arrived in San Francisco in 1920, where he lived and worked as a furniture maker in the heavily Jewish Fillmore District. In the 1930s Zakheim was a Communist. He traveled to Mexico and then turned to mural painting, and was one of the 25 artists who created murals at the Coit Tower in San Francisco. He also painted two large murals at the University of California, San Francisco, titled "The History of Medicine in California". These were covered over during the late 50s,but later restored by Zakheim's son. He also painted a mural (titled "The Jewish Wedding" or "The Wedding Ceremony") at the San Francisco Jewish Community Center. In 1966, Zakheim created six wooden sculptures for one of the first Holocaust memorials in the United States, now displayed at Mount Sinai Memorial Park Cemetery in Los Angeles.
*****
April 1: Birthday of Sculptor Aaron J. Goodleman (1890-1978)
Today is the birthday of Aaron J. Goodleman, and Russian-born American-Jewish sculptor not widely known, but whose work deserves more attention for its formal qualities, its craftsmanship, and its social and political message. Goodelman was also an accomplished illustrator and etcher, and a frequent lecturer and teacher.
Read more here: https://samgrubersjewishartmonuments.blogspot.com/2019/04/happy-birthday-aaron-j-goodleman-1890.html
March 31 (1963): Death of Architect Henry Hohauser
On this day in 1963 famed Art Deco architect Henry Hohauser died in Lawrence, New York. Hohauser, who was born in new York and studied at the Pratt Institute before moving to Miami in 1932, designed more than 300 homes, apartment buildings, hotels, stores, restaurants and theaters and helped create the Art Deco look of Miami Beach. In 1936 he designed Congregation Beth El in Miami Beach, now how of the Jewish Museum of Florida.
Read more here: https://samgrubersjewishartmonuments.blogspot.com/2016/05/happy-birthday-henry-hohauser-miami-art.html
*****
March 30: Architect Werner Seligmann (1930-1998)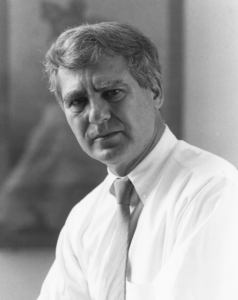 Today is the birthday of Werner Seligmann, a practicing architect, influential teacher and a Dean of Syracuse University's School of Architecture. At Syracuse, and before that at Cornell University, he put his stamp on New York State design, and shaped the architectural aesthetic of several generations of architectural students and professionals. Seligmann also designed two innovative modern synagogues in Upstate New York in the 1960s that were custom-made for the unique characteristics of the congregations they served.
Born in Osnabrück, Germany, Seligmann spent the latter part of World War II in a concentration camp; unfortunately his mother and sister did not survive the camps. After the war he was sent to the US to live with relatives in Groton New York, beginning his long association with Central New York.
In Binghamton, New York, he built the Orthodox Beth David synagogue, a modern structure that combined traditional arrangements, such as the placing the 400-seat sanctuary on a second floor, and the inclusion of a small courtyard, with the use of raw inexpensive materials such as exposed block and concrete for expressive purpose. Nearby, in Cortland, NY, Seligmann designed the even smaller Temple Brith Shalom, a nominally Conservative synagogue dedicated in 1969. Both synagogues are modest urban buildings on a small lots built to maintain local scale.
The Cortland synagogue is very private, and mostly looks in upon itself, in the manner of many small town European synagogues, especially those from Seligmann's native Germany. Like the Binghamton synagogue, there is a small courtyard that creates a transitional mood. Inside all the spaces are united, though sliding panels can subdivid the space to isolate the small sanctuary. This space has a special purity. At first it appears simply boxlike, but shifts of floor level, lighting and symmetry subtly charge the space with quiet energy. The low ceiling of the central all-purpose hall through which one must pass, creates a pressure that gives way in the sanctuary, where the floor slopes away and the ceiling rises.
Inside, all the space are united, though sliding panels can subdivided the space to isolate the small sanctuary. This space has a special purity. At first it appears simply boxlike, but shifts of floor level, lighting and symmetry subtly charge the space with quiet energy. The low ceiling of the central all-purpose hall through which one must pass, creates a pressure that gives way in the sanctuary, where the floor slopes away and the ceiling rises.
— Samuel Gruber
Read more about Seligmann's synagogues here:
https://samgrubersjewishartmonuments.blogspot.com/2012/05/werner-seligmanns-modern-synagogues.html
https://samgrubersjewishartmonuments.blogspot.com/2015/11/usa-modern-orthodox-orthodox-modernism.html
*****
March 29: Architect Max Fleischer (1841-1905)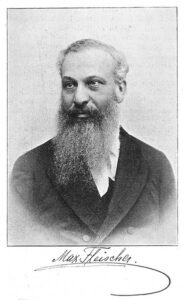 Today is the birthday of prolific Viennese synagogue architect Max Fleischer (1841-1905) who was a master of historic styles and helped re-integrate Gothic design into Jewish religious and institutional architecture in the Austro-Hungarian Empire in the late 19th and early 20th centuries. He was highly successful in his lifetime as a professional and as a community leader. He was a highly trained, experienced, and well organized architect. He was also a practicing Jew. Thus, he was an ideal candidate to take on many official Jewish community projects in the Austrian-Hungarian Empire. Fleischer was artistically cautious and for the most part a believer in the architectural – and cultural – status quo. His works were prominent and functional and innovative only in their inherent conservatism (that it is, he rejected the Moorish style); not in their overall plans nor in the intricacies of their designs. Read more about Fleischer here:
https://samgrubersjewishartmonuments.blogspot.com/2019/03/happy-birthday-max-fleischer-1841-1905.html