New Book on Jacob Landau's Stunning Stained Glass Windows "The Prophetic Quest"
Herrstrom, David S. and Scrimgeour, Andrew D. The Prophetic Quest: The Stained Glass Windows of Jacob Landau, Reform Congregation Keneseth Israel, Elkins Park, Pennsylvania. (University Park, PA: Pennsylvania State University Press, 2021).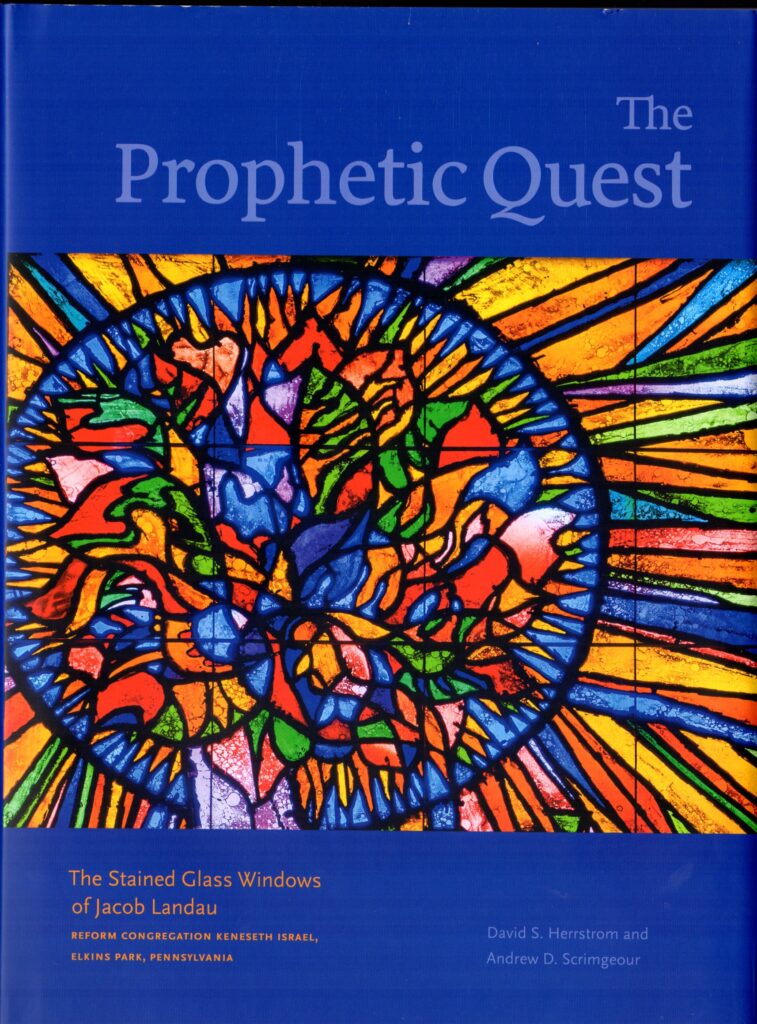 A beautifully produced and illustrated now book is out about the stunning series of stained glass windows designed by artist Jacob Landau for Reform Congregation Keneseth Israel in Elkins Park, Pennsylvania in the early 1970s. These windows – too little known – are masterpieces of mid-20th century stained glass and of contemporary Jewish-themed art. Rabbi Bertram Korn worked with Landau on the theme, but Landau brought his own artistic vision and political passions to the project. This book researched and written by Landau experts Herrstrom and Scrimgeour sets a new standard for publishing about 20th century Jewish art projects. It is hoped that other works will get a similar treatment so the world will know that there is more than Marc Chagall when it comes to synagogue stained glass. The preparation of this book has helped spark interest in American synagogue stained glass and since last fall ISJM has convened a monthly meeting of experts to discuss and develop the subject. While Landau's windows seem safe for – at least the next generation – other great synagogue window programs are at risk in Chicago (The Loop Synagogue), Woonsocket, Rhode Island (B'nai Israel) and Queens, New York (Forest Hills Jewish Center).