Survey of Synagogue Wall Paintings in North America
The 2016 conference on synagogue wall painting at the Center for Jewish Art in Jerusalem included a presentation by ISJM president Dr. Samuel D. Gruber about the recently uncovered 1910 mural which once adorned the former Chai Adam Synagogue in Burlington, Vermont. This work exemplifies the practice of immigrant synagogue wall painting in the early 20th century. This was apparently a common and even widespread practice among Eastern European Orthodox congregations in the United States and Canada.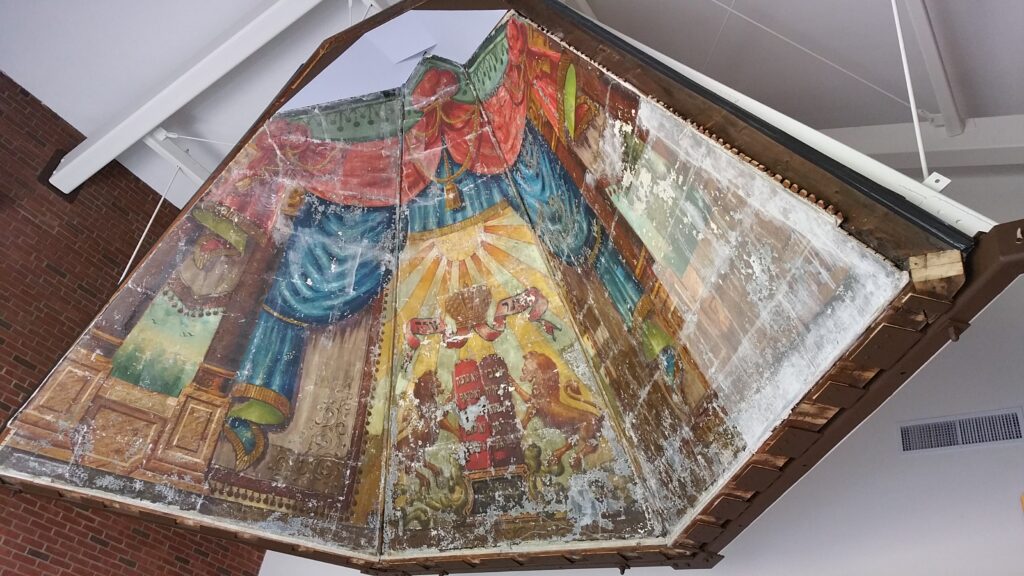 Study of the Vermont mural revealed that this tradition has been little documented. ISJM has therefore begun a documentary inventory recording American synagogue wall paintings of all periods. The study includes a review of historic photographs of paintings and no-longer-extant synagogues and site visitation to describe and photograph in situ painted decoration. Survey results will be added to the inventory of synagogue wall painting created by the Center for Jewish Art. Survey results will also be used to provide preservation planning for congregational and other building owners with surviving wall painting. We hope this research will spark greater interest in this religious art tradition and inspire student and professional research projects into painting history and individual artists and their projects.
The survey groups North American synagogue wall paintings into four main groups, based on time period, style, patronage and purpose. These are:
1. Mid-19th through the mid-20th century architectural decorative wall painting adorning interiors of sanctuaries that responded to the primary architectural design and style of the space.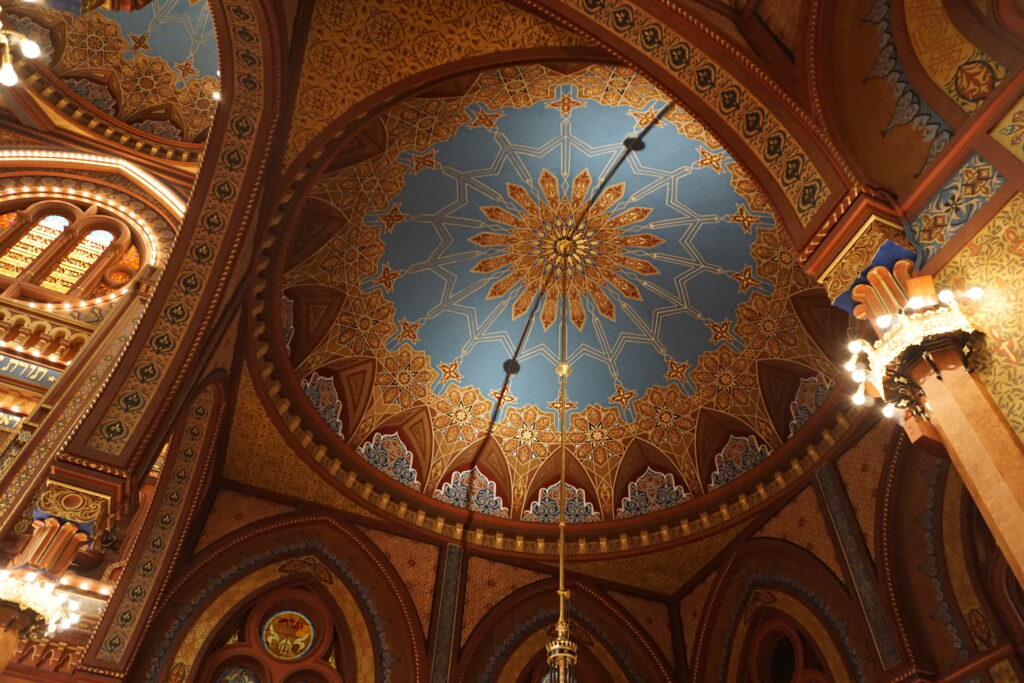 2. Wall paintings in usually small Traditional (Orthodox) synagogues founded by Eastern European immigrants and which included a variety of specifically Jewish motifs and symbols, including animals and natural scenes, signs of the zodiac and Jewish months (mazoles) and holidays, musical instruments related to the 150th psalm, compositions including the lions of Judah and the Ten Commandments, and scenes of the Holy Land.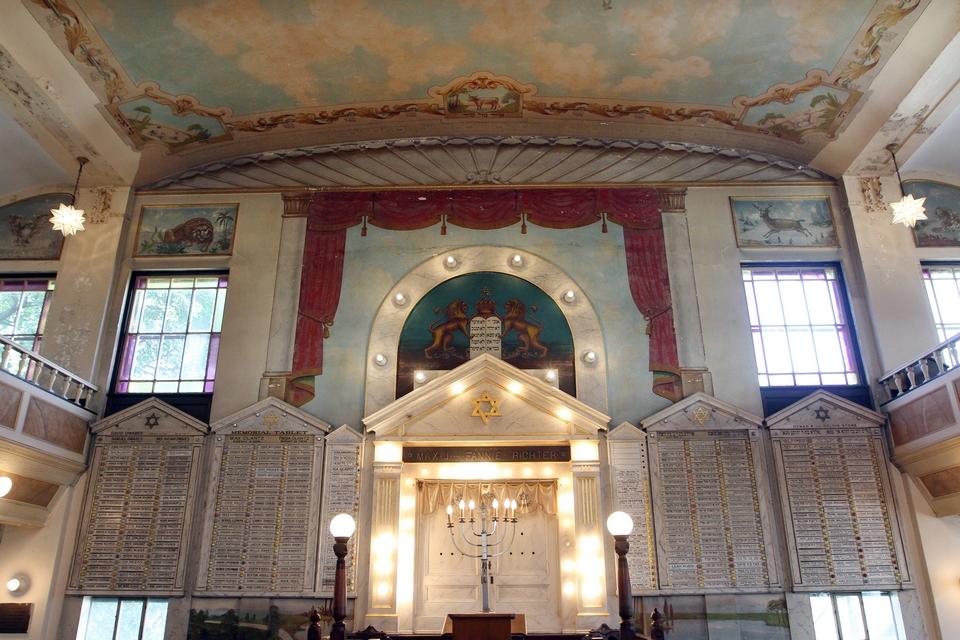 3. Often large and sweeping wall painting developed in the 1920s for synagogues and Jewish Community Centers that were often composed and painted by professionally trained artists. These works were similar in scope and scale to WPA-sponsored murals (often painted by Jewish artists) in housing projects., post offices and other publicly funded projects. These works hark back more the late-19th century Jewish social painting rather than older traditions of religious art.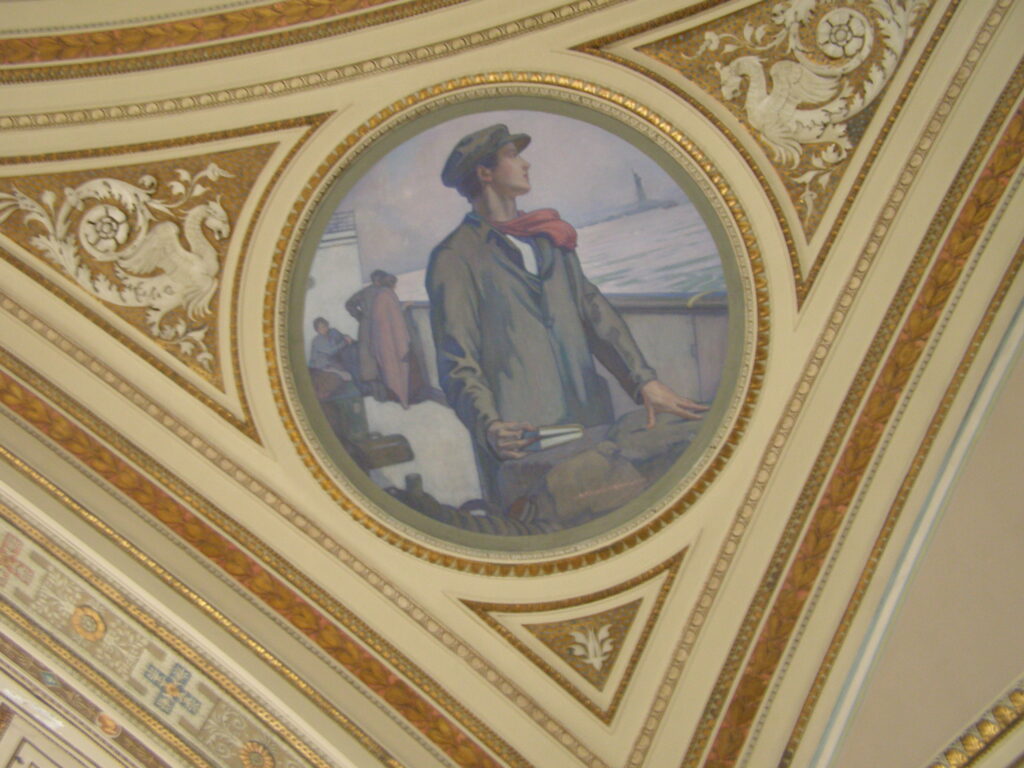 4. Wall paintings in the post-World War II years, usually in new suburban synagogue-center complexes. These were often painted in a modern style including either abstract or highly stylized designs, and bold lines and colors. These works could be applied directly to the synagogue or social hall walls, or be painted on canvas or panel and attached.
https://samgrubersjewishartmonuments.blogspot.com/2019/01/usa-wall-paintings-at-sons-of-jacob-in.html
https://samgrubersjewishartmonuments.blogspot.com/2018/12/usa-walnut-street-shul-in-chelsea-mass.html
https://samgrubersjewishartmonuments.blogspot.com/2018/04/usa-cincinnatis-alhambra-plum-street.html
https://samgrubersjewishartmonuments.blogspot.com/2017/07/usa-new-yorks-stanton-street-shul-its.html